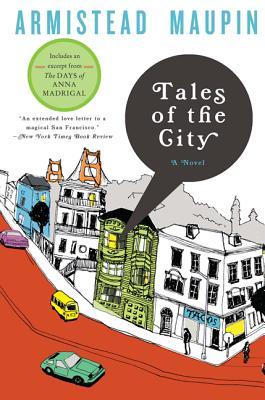 Tales of the City
By Armistead Maupin★★★★★
February 12th, 2021
Growing up I was always aware of this series though I knew little about it. It was always among my Mother's favorites. I always knew I would read it someday I just wasn't sure when that would be, until my wife got a 13 week work contract in San Francisco.

Whenever I show up in a new town my senses are finely tuned in to everything around me. Every house, crack in the sidewalk, and person walking a dog is an invaluable piece of insight into learning the personality of a city. As soon as we were a bit settled in I popped open this book. Reading Tales of the City as a new transplant to San Francisco was a charming treat. It has been as important a part of my experience so far as the places we've been, people we've met, and food we've eaten.

Originally written as a serial in the San Francisco Chronicle, each chapter is short and quickly digestible. I love this style, it's perfect for opening up and reading a quick chapter when you have only a few minutes. If you have the ebook, pulling your phone out for a quick dose of Tales is a rush. I love books with short chapters and this book has among the shortest.

The book focuses on a handful of characters whose stories all intersect in one way or another. Some chapters focus on a larger story arc but many are simply one offs that have nothing to do with a broader narrative. This loose style makes for an interesting read. If there's a thread that doesn't jive with you, it'll be gone soon enough. If Maupin wants to throw in some irrelevant piece that he finds interesting, he can do that without derailing anything. The way the narrative jumps around between characters also pulls you along hoping to get to the next chapter that follows a thread of great interest to you. Armistead Maupin's prose is delightful. His dialogue is witty and charming when he wants it to be and dramatic or cruel when he wants it to be. The book is overflowing with drama, camaraderie, intrigue, and humor. The characters are all my new obsession.

Tales of the city was first serialized nearly 50 years ago so it's also an interesting gaze into the past. I found myself having to look up so many of the references, even being the pop-culture junky that I am. The fashion, the art, the nightlife, the drugs, the cocktails, the sex, the social life, it was all such a great window into the similarities and differences of urban life then and now.

I can't stop now. I must read the next volume. After that I'll decide if I can let these characters live their lives without me watching their every move or if I'll simply need to read on until there's nothing left of their lives on paper.